It's a new split, and hot off a decent showing for NA at MSI 2021, expectations are high that this coming split will be a banger. And for you Fantasy players, this hopefully means plenty of kills, assists and multi-kill bonus points!
Now, if you need the edge on your friends in drafting to make sure you're thinking 3 steps ahead in the team building, you're in the right place. We've prepared our Fantasy Cheat Sheet for the LCS for your viewing pleasure, so you can decide well before your turn which players you want to be grabbing.
As usual, first things first. If you're brand new to Fantasy League of Legends, or just need a refresher on how it all works, check out our article here to get caught up, and if you're stuck on anything, don't hesitate to get in touch on Twitter or send us a message on our Discord!
Without further ado, here are our rankings for the LCS Summer Split!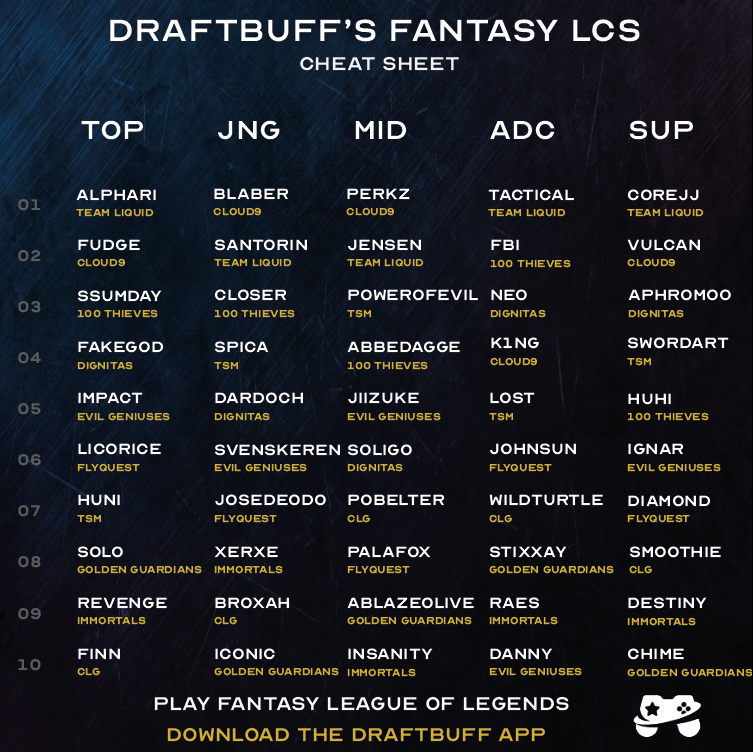 As was the case in Spring, Cloud9 and Team Liquid dominate the top 2 in each role, but with the addition of K1ng to the C9 roster, he could see his stock rise significantly in the next few weeks.
Largely the positional ranks have remained the same, save for a fall in rankings for a couple of Immortals players, but Dignitas have had their superb showing in Spring reflected in their rankings. The biggest jump of them all is Neo, who was our 10th ranked ADC coming into Spring, but a series of MVP-level performances and >90pt weeks have seen him rocket up to 3rd- if he has a similar performance in Summer, he has a real claim to becoming the top ADC in our Spring 2021 rankings.